Programme structure and contents
The teacher education programme for secondary school teachers (of general education) consists of a Bachelor's programme and a Master's programme.
The minimum duration is 12 semesters (bachelor's: 8 semesters, master's: 4 semesters).
Students select two teaching subjects according to their interests (or one teaching subject and one specialisation) and acquire subject-related academic and didactic knowledge as well as knowledge of General Principles of Educational Sciences in Bachelor's and Master's courses (lectures, seminars, etc.). In addition, students have to complete pedagogical-practical studies
Depending on your interests, you can choose two subjects (or a subject and a specialisation). If you would like to study a third subject, this is possible by enrolling in a complementary degree programme.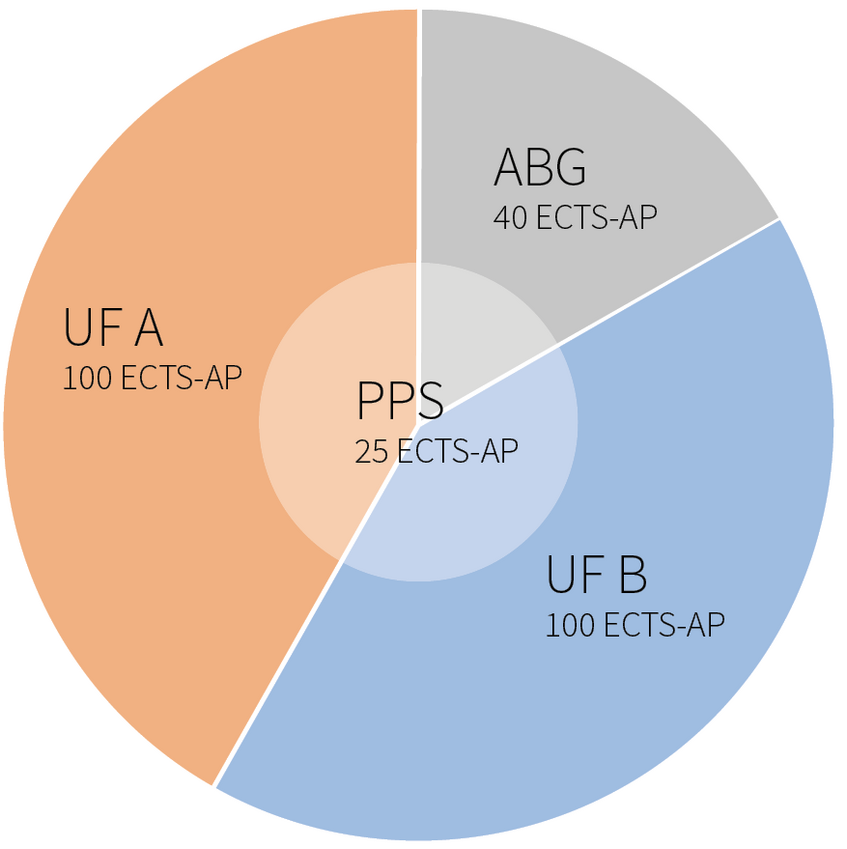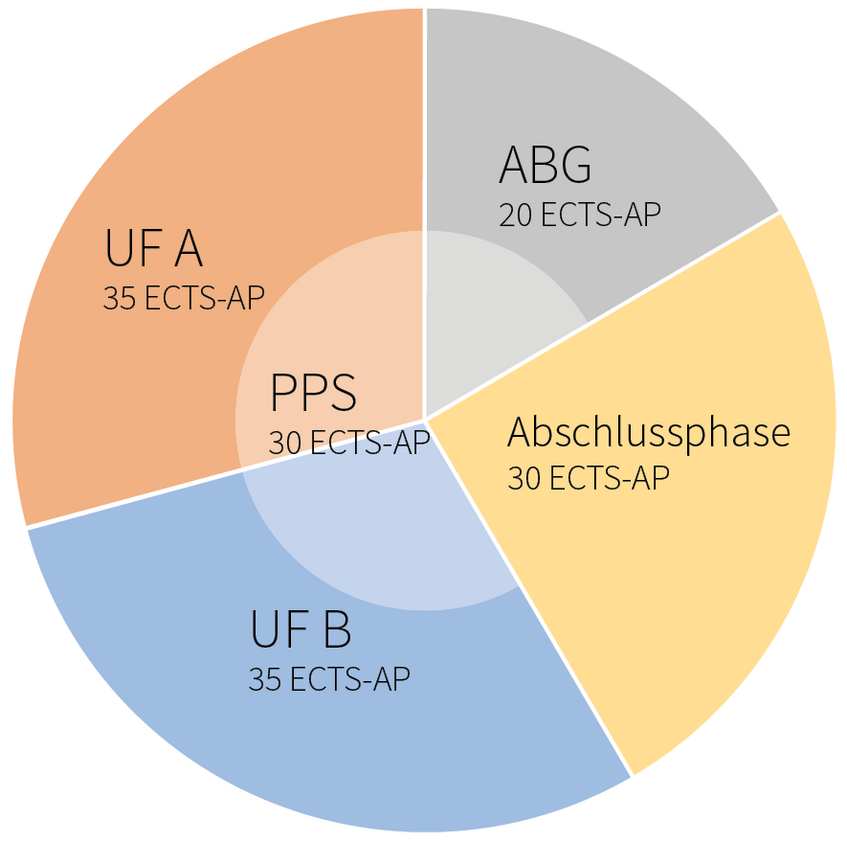 About the curriculum and the course contents
Subjects
In your teaching subjects, you will learn about subject science and subject didactics. Over the course of your studies, you will acquire in-depth knowledge, methods as well as figures of thought and action within your discipline. This includes the study of field-specific knowledge, the mastery of basic scientific methods and an introduction to questions concerning scientific theory and the history of science. As part of subject didactics, students concentrate on their subject-specific theories, developments, study contents and areas of application. This way, students can acquire the ability to plan subject teaching that is based on modern teaching technology and modern media, to diagnose students' performance and to support students in their individual learning processes.
Inclusive Education (focus on impairments)
In the Bachelor's programme, the specialisation in inclusive education focuses on existing, changing and future areas of activities for the education of students with disabilities, learning difficulties as well as significant social and emotional problems on secondary school level.
The specialization opens up the possibility to acquire scientific, didactic and educational-diagnostic basics, which enable students in the programme to create the best possible learning conditions for learners with difficult (learning) conditions in (special) education or inclusive settings. Moreover, students will be able to accompany and provide learners with professional support in their individual educational processes. The foundation for resource-oriented handling of heterogeneity rests on adaptive teaching and inclusive school development.
General Principles of Educational Sciences (ABG)
In the General Principles of Educational Sciences (ABG), you will deal with questions about teaching as a profession and the institutional conditions of teaching and learning. You will be accompanied in your professional development and learn to reflect on your own experiences and observations. This way, you will get familiar with general didactics, empirical research on teaching, and fundamental issues and theories in education, school and education research. You can critically engage with the tasks of school and teaching, as well as with central questions of teaching and learning. Additionally, you will learn to take a reasoned position on them.
Pedagogical-Practical Studies (PPS)
The pedagogical-practical studies (PPS) form another central element of the degree programme which serve as opportunities to put your acquired theoretical knowledge into practice (at schools of different school types). This way, theory and practice interrelate. Feedback, reflection on practical experiences, as well as learning and teaching settings that are rooted in University didactics support and guarantee the establishment of this relationship between theory and practice.
The first phase of the study programme (i.e. orientation phase) serves to orient you within the school system and its complexities. Over the course of the study programme, the pedagogical-practical studies are embedded in the subject-specific curricula and the General Principles of Education. Important elements are analytical observation, reflection and observation of lessons, as well as implementation and evaluation of teaching. In addition, the pedagogical-practical studies aim to develop an inquiring perspective on schools in students of the degree programme.
Upon completing the teacher education programme for secondary school teachers, you can teach in various types of secondary schools. To support students' entry into the teaching profession, the familiarization with these school types is part of the pedagogical-practical studies.